Maria Abajan

An Armenian American dramatic soprano, pursues her international career as a free-lance artist in the operatic world of essentially Europe and South America. She is best identified with the roles of Italian heroines in operas by Puccini, Verdi, Bellini, Mascagni, Cilea, Catalani, Boito and Poncielli.
Maria Abajan was born in Yerevan, Armenia. Upon completion of her A-Level education, she was admitted to the Komitas State Conservatory of Music in Yerevan. There she mastered her singing technique under the tutelage of Mrs. Goulabian, a prominent vocal teacher in the country, and completed the required subjects in the music curriculum of this conservatory.
Among the many prizes Maria earned as a student was a scholarship to the famous Santa Cecilia Academy of Rome. Subsequently, Maria accompanied her parents to Los Angeles, California, where they established their residence. She was immediately admitted into the opera program of the world-renowned Thornton School of Music, University of Southern California in Los Angeles.
During her student years in U.S.A. Maria participated in national auditions and was awarded first prize in the Western USA Regional auditions of the New York Metropolitan Opera, the Merola Program in San Francisco, and the Loren L. Zachary Society for the Performing Arts in Los Angeles. The latter also offered her a two-year contract at the Augsburg Opera House. Two other awards, Concorso International di Mario del Monaco, Italy, and Concorso International St. Louise Potosi, Mexico, preceded her contract with the Manheim Opera House. Throughout her four years at this opera house she sang leading soprano roles of Italian masters.
Home for a brief period in Los Angeles, Maria sang the role of Cio Cio-San, Madama Butterfly, for the Los Angeles Opera Company. The music critic of Los Angeles Times at the time, Albert Goldberg, wrote the following about her performance: "The Abajan soprano is large, healthy and unfettered … it can grasp and float a tendril of Puccinian melody with velvety tenderness — well-trained brain… temperamental and emotional impulses induce an instant audience response."
Live Recordings
from Maria's international operatic career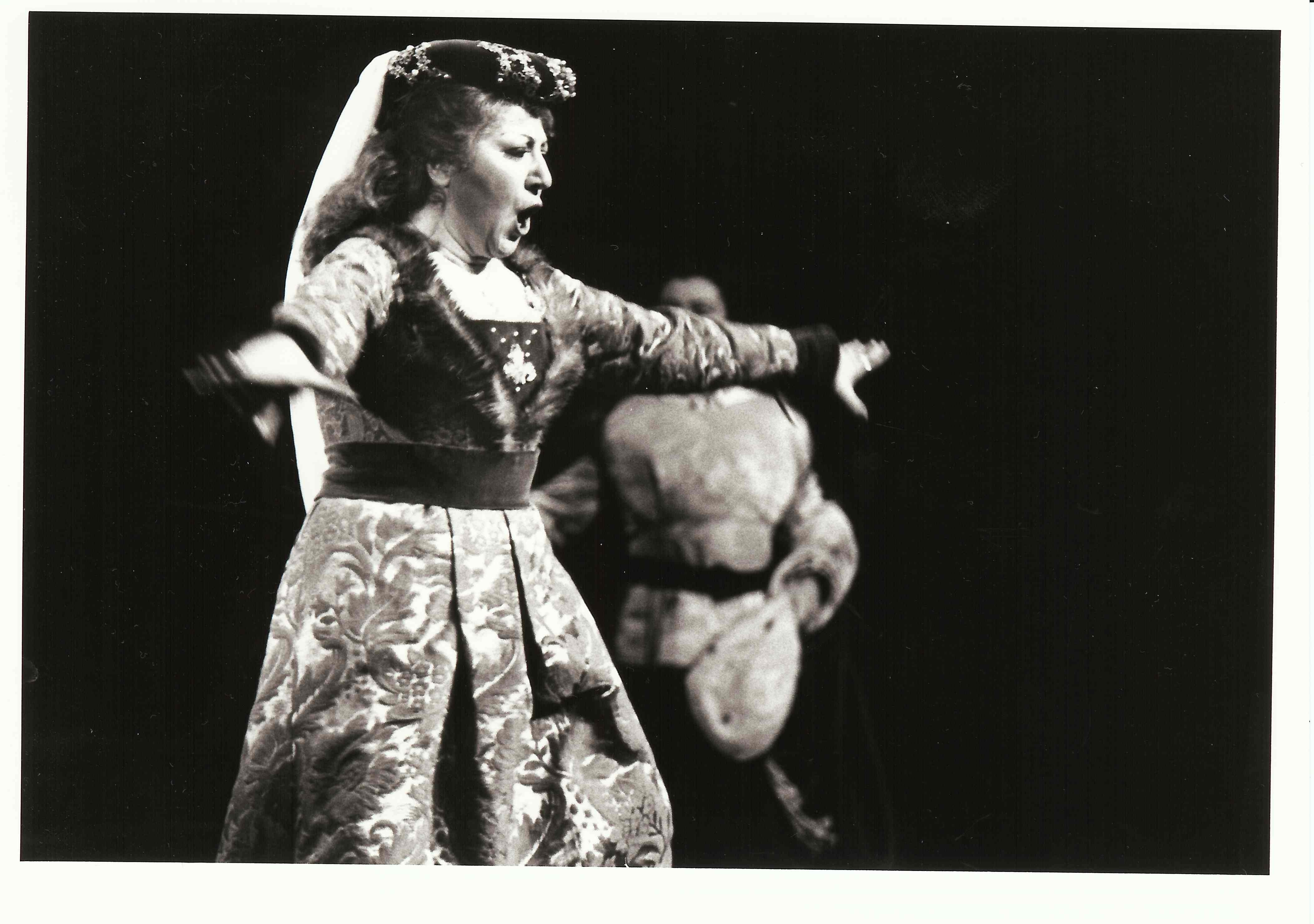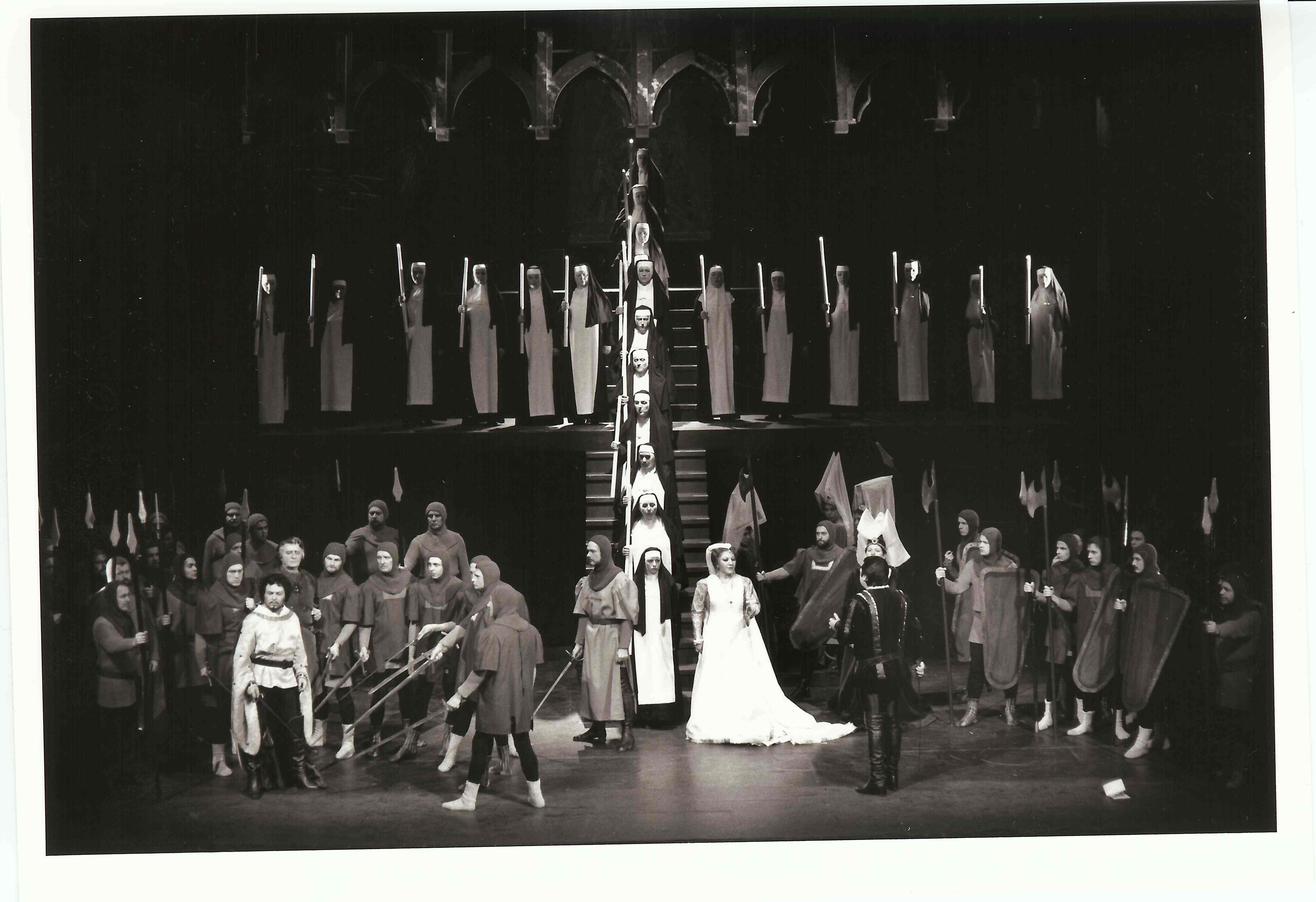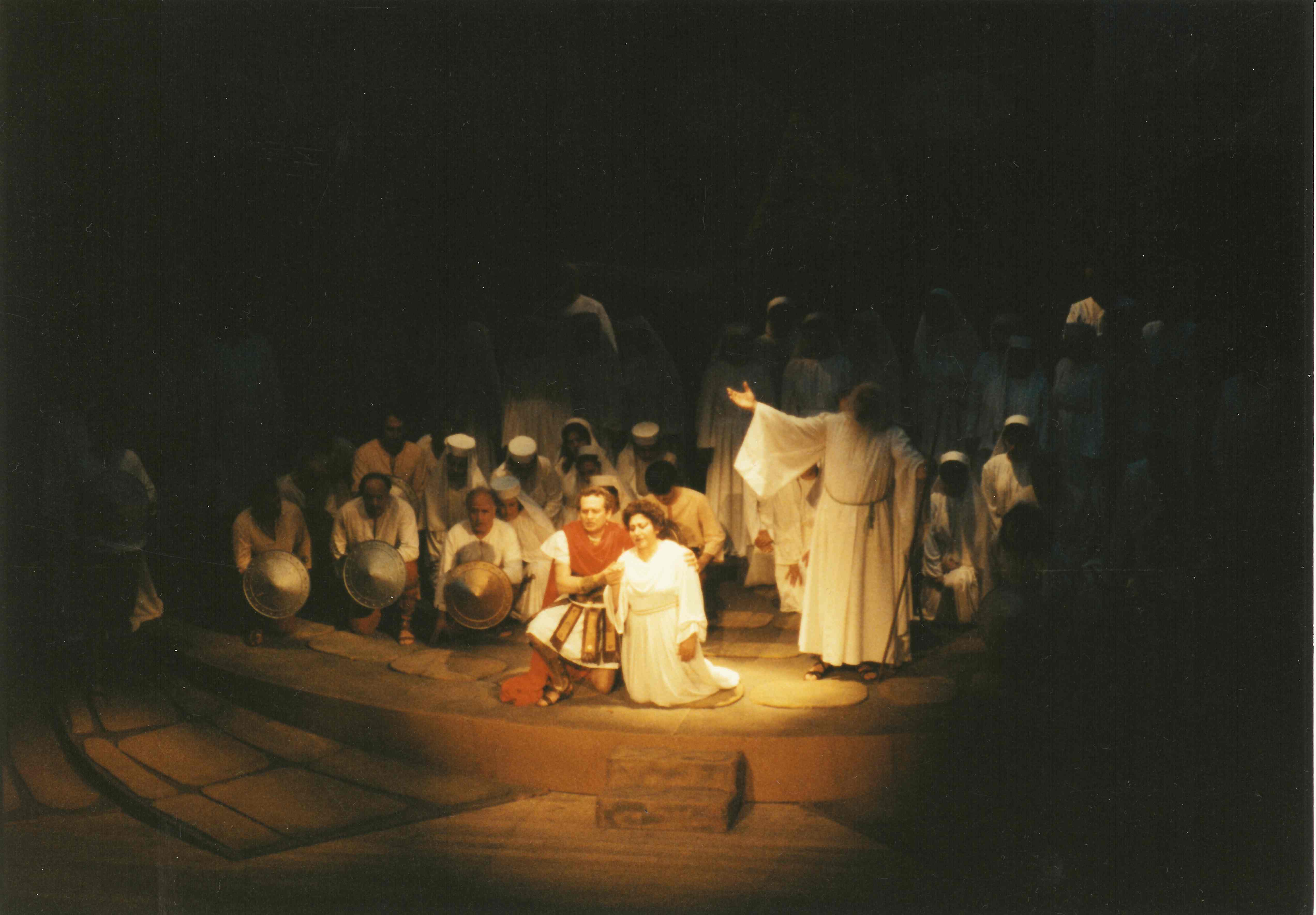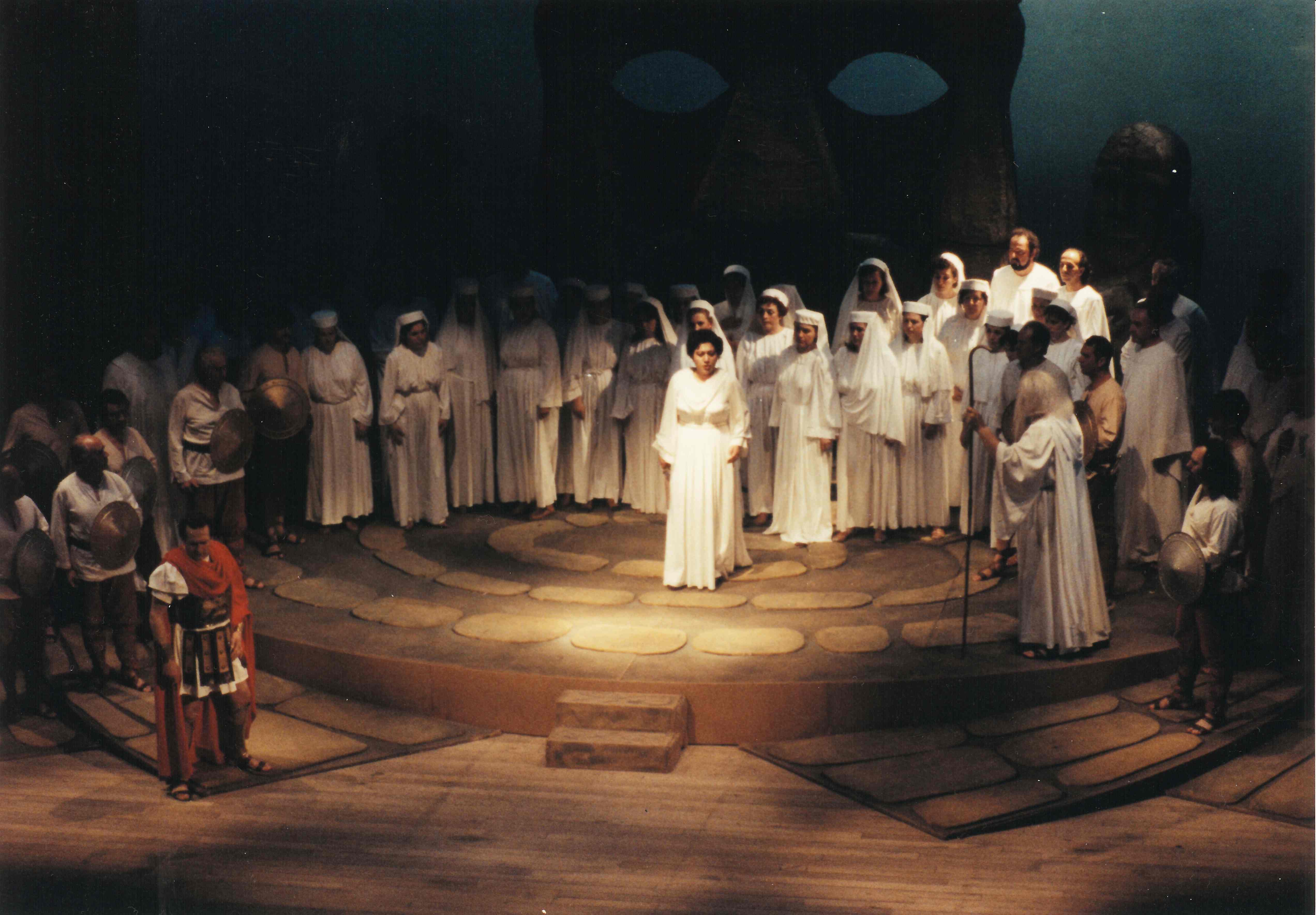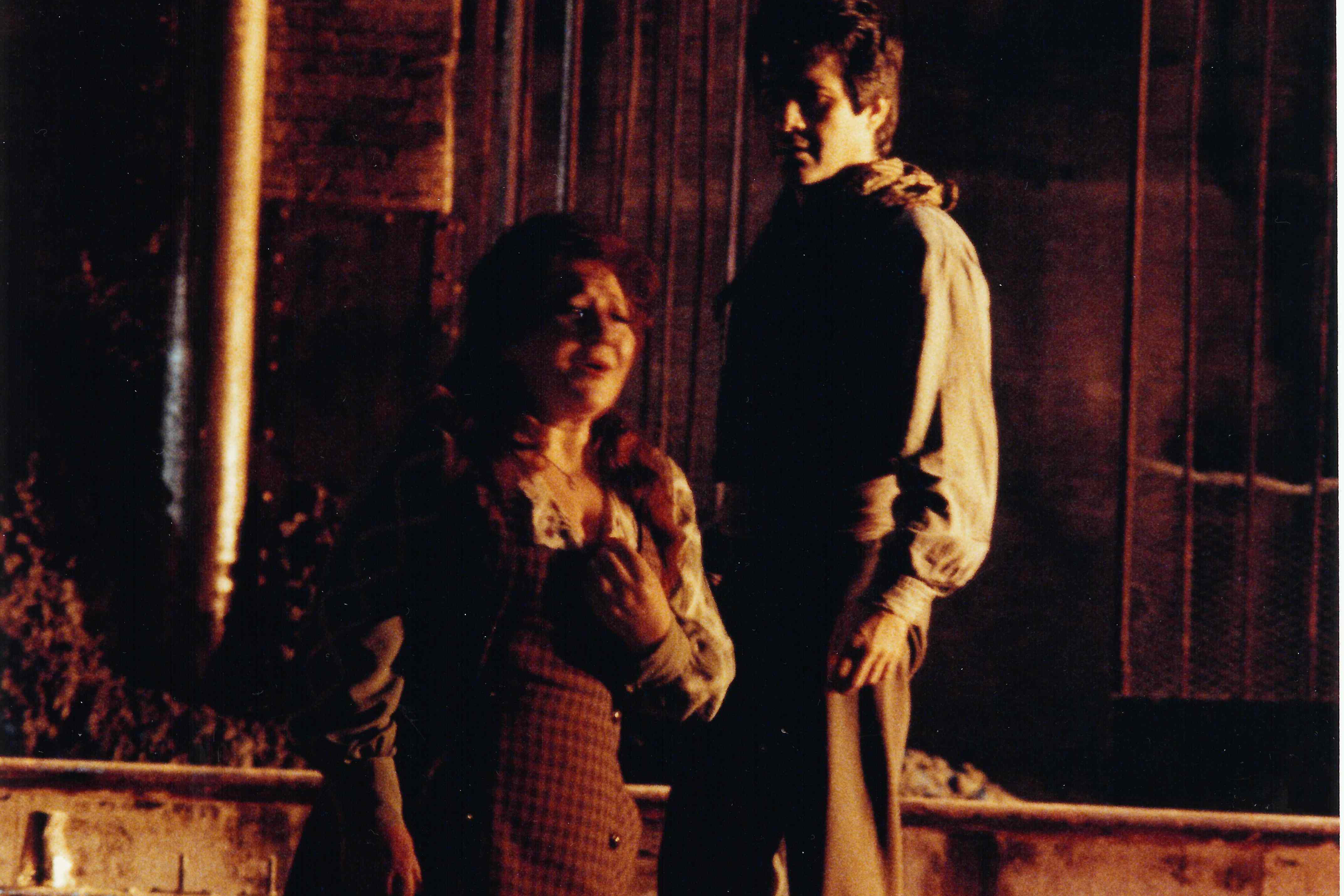 International Operatic Career
Maria Abajan established an impressive international operatic career of leading soprano roles on the opera and concert stages of mainly European and South American opera houses; such are: Berlin (Staatsoper and Deutsche Oper), Hamburg, Frankfurt, Düsseldorf, Stuttgart, Dortmund, Essen, Mannheim, Munich, Vienna, Graz, Prag, Brussels, Antwerp, Liege, Maastricht, Zurich, Basel, St. Gallen, Madrid, Bilbao, Oviedo, Las Palmas, Marseilles, Toulon, Toulouse, Montpellier, Nice, Glasgow, Aberdeen, Newcastle, Santiago de Chile, Rio de Janeiro, Sao Paulo, Caracas, Los Angeles and Tel Aviv.
Mrs. Abajan's very first role was Abigaile in Verdi's Nabucco, to which followed Lisa in Tchaikovsky's Pique Dame.
Maria was invited to participate in a gala concert telecast on the opening night of Verdi's 100th year anniversary in Rio De Janeiro, Brasil. Some other telecasts of her performances were: "Abigaile, Nabucco, and Turandot in Mallorca and in Las Palmas", Tosca in Bilbao, Gorgetta, Il Tabarro in Madrid, Spain, and Verdi's requiem in Toulon, France.
Among Mrs. Abajan's partners on stage have been Niccolai Ghiaurov, Simon Estes, Grace Bumbry, Jose Carreras, Wolfgang Brendel, Fiorenza Cossoto, Allan Fondary, Piero Cappuccilli, Lando Bartollini, Gegam Grigorian, Eduard Tumagian, Luis Lima, Leo Nucci, Alberto Rinaldi, Guiseppe.Giacomini, Mario Malagnini, Peter Dvorsky, Giacomo Aragall, Renato Bruson, Paata Burchuladze.
Mrs. Abajan made her debut with the Vienna State Opera in 1991, in the role of Tosca with the conductor Fabio Luisi. She was invited back the following year for a repeat performance in the same role, and also to sing the role of Leonora in La Forza del Destino under the baton of Pica Steinberg.
Mrs. Abajan's beautiful and expressive voice continues to thrill her audiences and win the unreserved admiration of conductors, stage directors, colleagues and critics alike. They speak of the beauty, power and range of her voice, her interpretive style and her impressive stage presence; to name a few: Marco Arturo Marelli, Giancarlo del Monaco, Giuseppe Patané, Nello Santi, Michelangelo Veltri, Fabio Luisi, Pierre Dervaux, Carlo Franci, Bruno Bartoletti, Donald Runnicles, Wolfgang Rennert, Pinchas Steinberg, P. Schneider and Gerry Bentini.
Mrs. Abajan's concert repertoire of art songs and romances feature Schubert, Schuman, Wolf, Tosti, Verdi, Tchakofsky, Rachmaninof, as well as Armenian composers, such as: Mirzoyan, Spentiarian, Komitas. She is especially fond of singing Armenian medieval sacred arias of Naregatsi and Shnorhali. On occasion, Mrs. Abajan also sang Verdi's Requem and Beethoven's Ninth Symphony.
Throughout her singing career Mrs. Abajan has shared her knowledge of vocal technique and her interpretive insights of the vocal repertoire with young talented singers. Having found those experiences very fulfilling, she is at present seriously contemplating to devote a good portion of her time to teach the vocal technique, repertoire and stage craft, which she learned form her teachers – Rosalia Gulabian, Ariggo Pola , Ginga Cingna, Leone Magiera, from the conductors she has worked with, her singing partners, and especially from her own singing-acting experiences on the great opera and concert stages.